Hairstylists, salon owners, makeup artists, and almost everyone involved in the beauty and cosmetic businesses have felt the effects of COVID on their businesses. It's become more important now than ever to pandemic-proof your salon business to ensure smooth operations. 
Here are 15 easy and effective marketing tips for salons during the pandemic.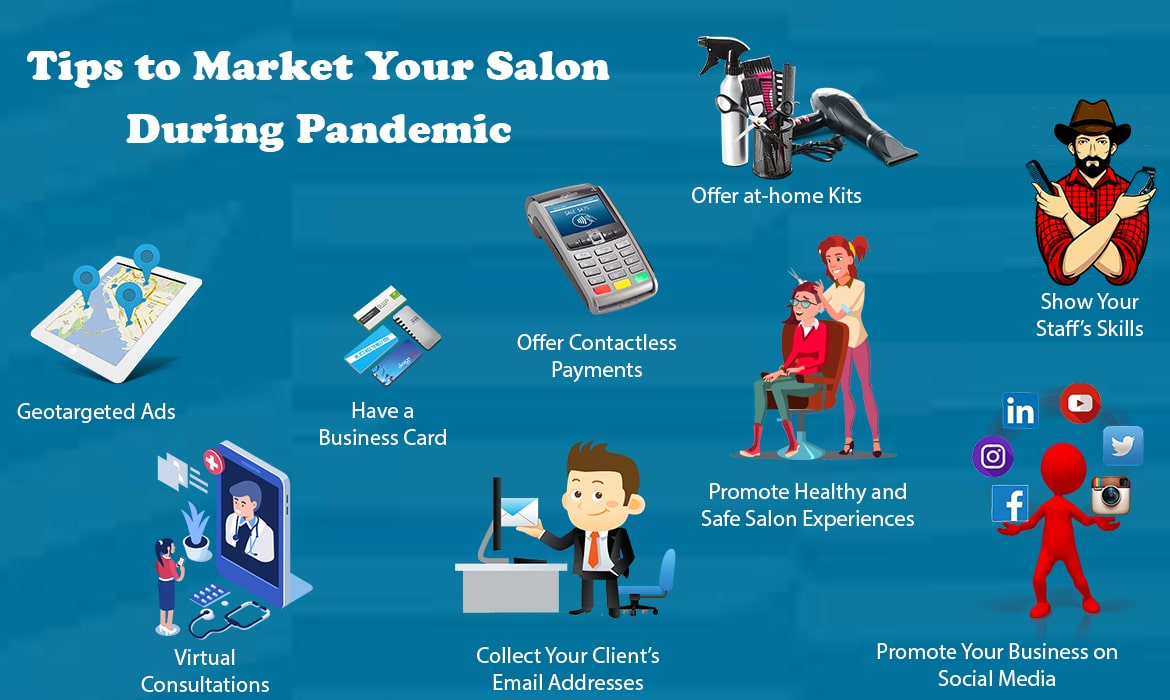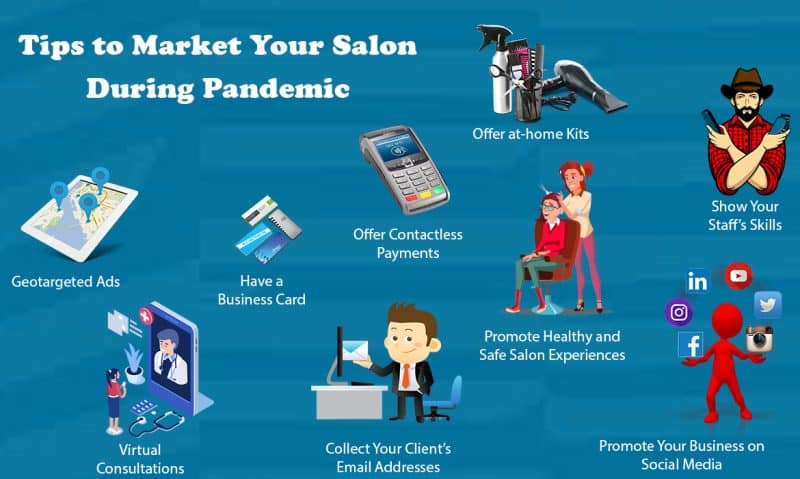 For every 5-6 visits, offer a special discount to your regular customers. Show them how you are interested in their preferences. Listen to their family stories and always give them a warm welcome. Your loyal customers are highly likely to stick with you in the long run if they get regular discounts and promotional deals.
No matter which networking app you use to promote your salon, consider using geo-targeted ads to attract your target audience. You don't want to get calls from clients in New York when you are running your business in California. That's why geo-targeted advertisements are a must for salon businesses.
Instead of keeping piled of magazines featuring different hairstyles, haircuts, and makeup artists, you can put up a few photos showcasing the talented employees and their skills. For example, the pictures of the haircuts and makeup your staff has done for brides can increase customers' trust in your brand.
Get Your Business on Yelp
Yelp is a place for businesses to claim their business, get reviews from clients, and post some nice photos of the brand to draw organic traffic. That's where most people (especially millennials and gen-z users) search for a makeup brand online. So, if you are not already on Yelp, now is the best time to set up an account.
Salons are often booked in advance. The last-minute booking often comes with a high price tag, plus a vast majority of salons are not available for emergency makeup and hairstyling services. Allow pre-booking services to your clients, as they are most likely to book your makeup artists a few months before their wedding. You can also offer discounts, add-ons, and other exceptional offers to those who book your services ahead.
Offer Contactless Payments
The demand for contactless payment is on the rise after the COVID pandemic. People prioritize their safety, which is why they prefer touchless payment services instead of cash or credit card payments. While most salons have already embraced e-wallets, you should try to integrate a POS unit and other flexible payment options for faster transactions. 
Promote Healthy and Safe Salon Experiences
As mentioned earlier, safety is your customers' number one priority. So, if you are taking senior citizens or vulnerable clients with existing medical conditions, the least you can do for them is offer a safe and healthy space. Keep your salon sanitized and clean all the time. You could also limit the number of customers you allow in the salon at one time.
People want at-home salon kits for waxing, hair styling, and makeup. One of the few ways to increase your sales is by offering in-home makeup kits. Some hairstylists offer the in-home makeup kit along with video instructions on how to use them for a better customer experience. It's great if you can offer such add-ons.
Clients don't want to spend hours in the salon waiting for their turns. Even a simple job like threading takes a long time, which leaves customers with the only option of getting ready at home. One way you can take more customers is by offering video consultations. Discuss the services they need virtually so that when they arrive at your place, you can start right away.
Show Disinfecting and Cleaning Protocols
In most salons, social distancing is not a viable option. So, you must promote other safety protocols to ensure a safe and healthy environment for your clients. Stick safety posters on your salon walls or place a sanitizer at the entrance. Show your customers your efforts in keeping your salon clean and disinfected.
Collect Your Clients' Email Addresses
One important thing we've learned during the pandemic is the importance of keeping in touch with your clients. Ladies will go to a new salon if they don't get personalized services from you. The competition is fierce in this industry. That's why you must collect clients' email addresses and send them an update for the latest offers. This will build their trust in your brand.
Upload Content on Instagram
People love to watch beauty and hairstyling videos on Instagram. So, why not use this opportunity to promote your hairstylists and makeup artists? Upload videos of your staff styling hair, doing pedicures, and offering other beauty services to your clients.
A business card is really important for makeup, nail, and hairstylists. If you bump into someone who offers compliments for your nails, hair, and makeup work, you can hand them your business card saying "Thank you, here's our business card if you need the same treatment". There is a good chance client will love to visit your salon sometime to get their nails and hair done. A business card will help them book an appointment and locate your salon easily.
Discounted offers and special rewards can increase the popularity of your salon business. Rewards don't only mean discounts on makeup or hair styling products, but you can offer giveaways and other social media contests to increase your followers. 
Promote Your Business on Social Media
Instagram and Facebook are the best platforms for salon marketing. That's where you will find people looking for exceptional makeup and hairstyling services. These are also the best places to market your content to a wider audience. Set up a business account for your salon services on social media and reach out to your target audience using hashtags, video content, and promotional offers.
A robust marketing strategy is what you need to keep your salon alive and running in today's competitive market. Try the above steps to make your salon pandemic-proof. Good Luck!