Plumber Website and Marketing
Project Brief
As more people are using the internet to search for contractors, plumbers, HVAC, and other home-related services online, online marketing is becoming a real crucial lead generation channel for home service contractors.
The Challenge
Local plumbers are looking to have steady, quality local clients. The issue is that a majority of plumbers are too busy or too slow to adapt with plumber marketing. The main focus for many plumbing companies is obtaining local customers, with the right budget.
The Solution
Search Engine Projects help plumbers by giving them a mobile-friendly plumbing website. Our team then improves the website's visibility on Google and other search engines. By implementing the use of review websites such as Yelp, Google Business Profile Management for Plumbers, HomeAdvisor and other directories to increase the awareness for potential plumbing customers, the plumbers will gain more trust with potential clients.
Plumber Marketing Ideas, Tips, and Strategies That Work
If you are a sole owner or CEO of a large plumbing business with many trucks on the roads, your business means a lot to you. Therefore, you must have wondered at one point or another what it takes to improve your plumber marketing strategy approach for better results. The solution to this issue is to apply effective strategies, tools, and tactics that improve your business. In today's world, the best thing you can do for your business is to leverage digital marketing and use it to generate more leads for your business.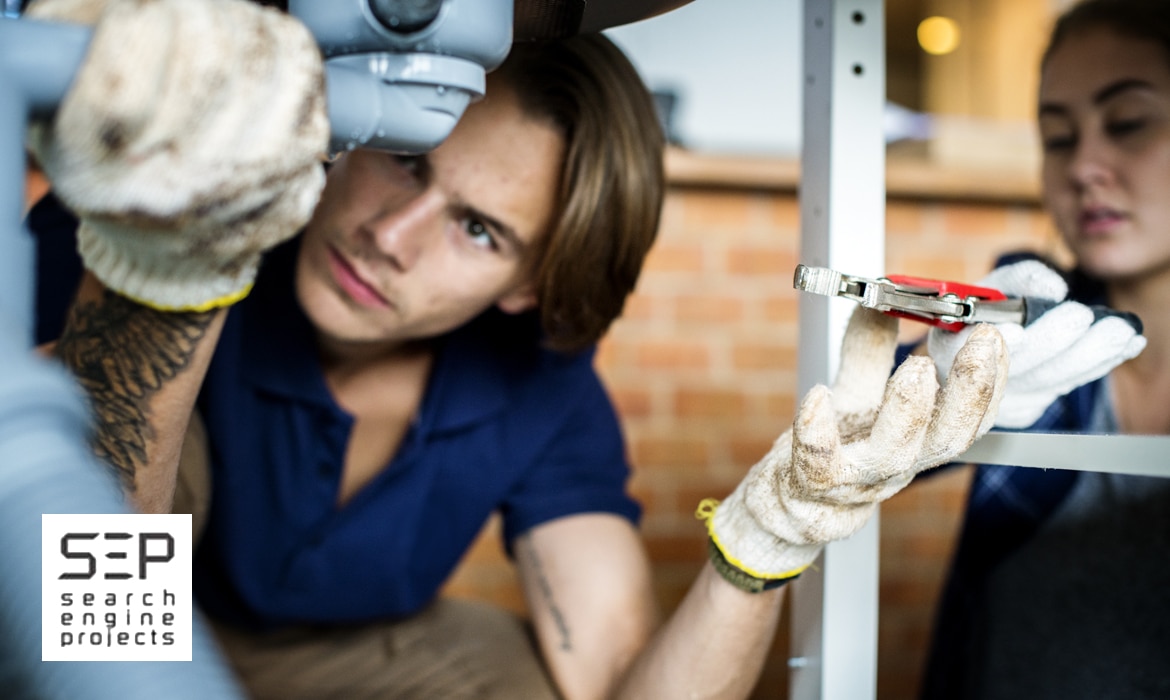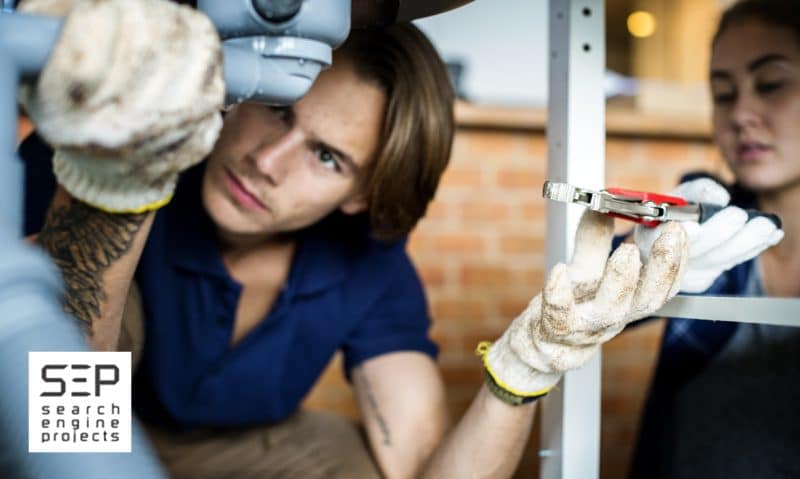 When we talk about leveraging the internet to generate more new customers and revenue, a certain level of expertise is necessary. At Search Engine Projects we can help you transform your plumbing company to genrate top revenue. Our online marketing approach is custom-designed and implemented based on the objectives and goals of your plumbing company.
Growing Your Plumbing Company with Online Marketing Starts with Understanding Your Customers
The days of potential customers making purchases or booking services through print are gone.
The digital era is growing and more people are making purchases and booking services online than ever before. The average consumer now has easy access to information online through their cellphone or desktop. This has made many businesses more aware of what these consumers are purchasing online and are less predictable to sellers. As a certified plumber, you must be trying your best to shift the customers' attention to you and your plumbing services. However, this may not be possible through just word-of-mouth referrals alone. The solution is a strategic and multi-channel approach to online plumber marketing.
To make a plumbing company grow online, you'll need help from an established plumbing marketing agency that knows how to implement techniques that have had proven results from past customers.
To Begin, you should ask, the following questions:
What type of advertising startegies they reconed to Improve Your Pluming Company
What is the recommended monthly plumbing advertising budget for Google Ads?
How About Adversting on Yelp and other Social Media Channels?
How do they measure

qualified leads?
Whatever your plumbing business goals may be, Search Engine Projects can help you achieve them.
Market Your Plumbing Company with Search Engine Projects
Are you in need of a professional internet marketing agency that will assist you in bringing your business goals to attainable results? Search Engine Projects
Are you in need of a professional digital marketing agency that will assist you in bringing your business goals to attainable results? Search Engine Projects are the one.
We are one the top plumber marketing agencies in the USA, and our marketing services will improve your business marketing structure and take your plumbing business to greater heights. We have partnered with several different plumbing companies, ranging from small and medium-sized organizations to large enterprises. Our well-thought-out marketing ideas and implementation strategies have returned a greater return on investment to all the clients we've worked with in the past.
Some of the great digital marketing services we offer to our customers include , Pay-Per-Click (PPC) Advertising, Social Media Advertising, Web Analytics, Email Marketing, Video Marketing, and more. As a digital marketing company, we must understand everything about your plumbing business: your customers, competitors, marketing efforts, and sales process. We know that full knowledge of all these things is critical for establishing an effective digital marketing strategy.
In the end, our plumbing marketing services will work to boost your business sales and leads. It will also optimize your plumber advertising costs and increase the overall positive impact of your business.
Only a few digital marketing firms can talk about the quality of the team members we have at Search Engine Projects. Our marketing team expertise, dedication, timeliness, and ideas are incomparable to other online marketing firms. Each member of our team has the unique ability to capitalize on analytics and data and then apply them to marketing a client's business. When you work with us, you will see a shift in your business leads under our improved online marketing campaigns.
Your plumbing business needs to connect with your customers at every stage of their journey as buyers of your service. This is why you need a credible online marketing firm like Search Engine Projects that will help you with creating an internet marketing strategy with multiple advertising channels. So, would you like to know more about Search Engine Projects? We're only a call away. Also, you can keep reading to learn more about all the plumbing marketing expert services that we offer.
Know More About Our Services:
1. Optimized, Mobile-Friendly Website Design
Your website represents your business, plumbing services and in the eye of your potential customers, it reflects your core business values. What other way is there to show how qualified and excellent your company is than by creating a website that displays all your plumbing services and the hard work that your company has done? Your company's website is also your sales rep and old-fashioned will automatically pass the wrong message to your audience. This could be a defining factor as to why your website fails to convert into leads.
2. Pay-Per-Click Advertising
The most effective secret for increasing the number of customers coming to your website is to make yourself visible in the online world. This is because a lot of people take the internet as their best friend when it comes to finding solutions to their plumbing problems. So, now that you know you're losing out if your business is not the first visible result in search results, what are you going to do about it? Nowadays, Pay-Per-Click advertising is what most business owners resort to if they are trying to see an increase in their leads to their website.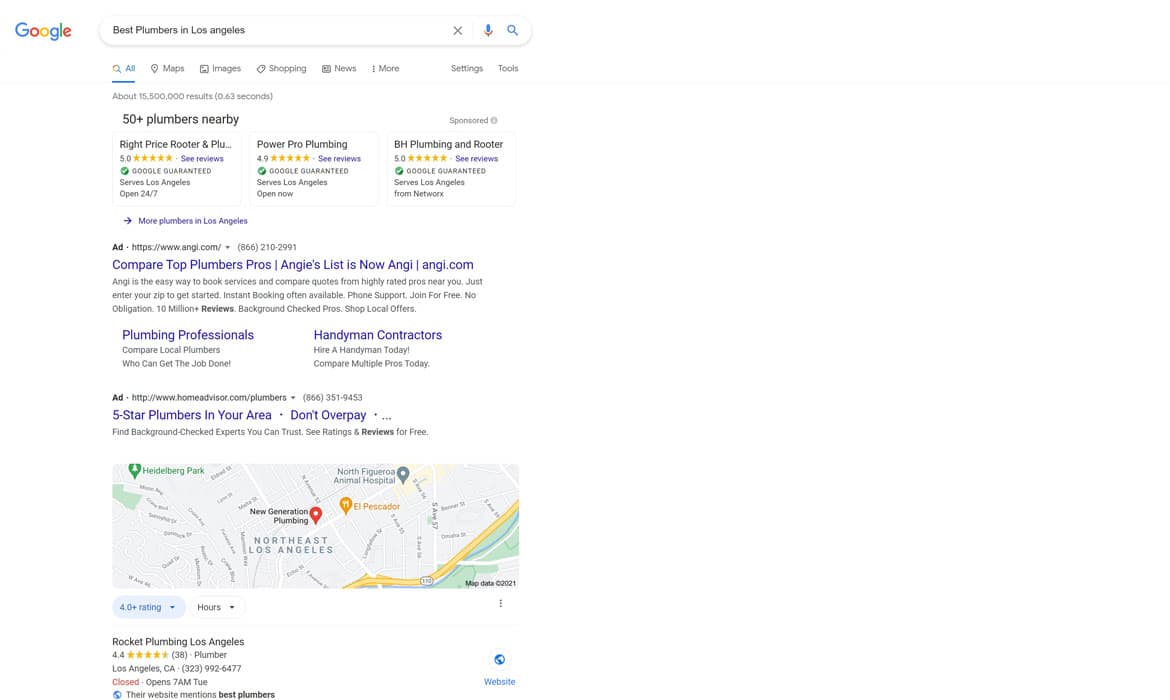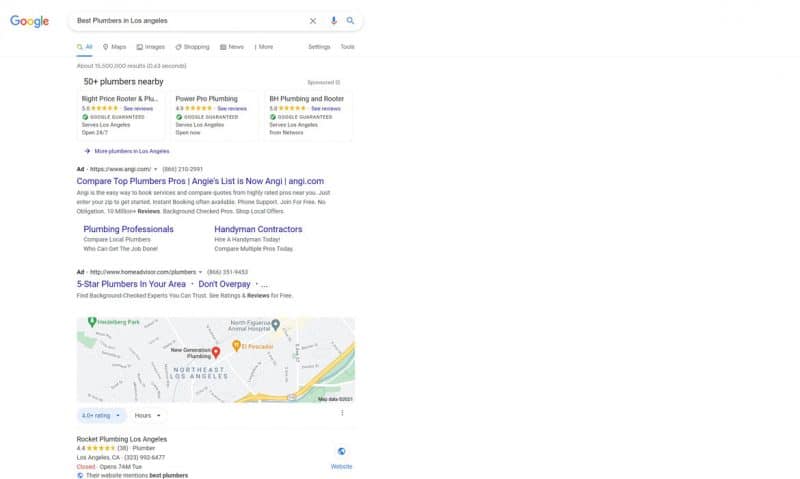 The advantage of Pay-Per-Click advertising is that it places your business on the first page of major search engines like Google, Bing, and Yahoo. We have a proven track record of increasing rankings, clicks, leads, and sales for plumbing businesses through our expertise in Pay-Per-Click advertising, including Google Search Ads, Google Display Ads, Google's Local Services Ads, and Google Guaranteed Badge. Additionally, as a Yelp Ads Partner, we offer free management of your plumbing company's Yelp Ads. Try us today!
3. Google Local Service allows certain businesses such as plumbers to advertise on top of Google search results.
The process is simple. Plumbers should add their information on Google forms included.
Valid Plumber License from State
Valid Insurance
Wait 4 to 5 business days for Google investigation and approval.
Set up an Advertising budget.
After approval, Google will list plumbers on top of the listing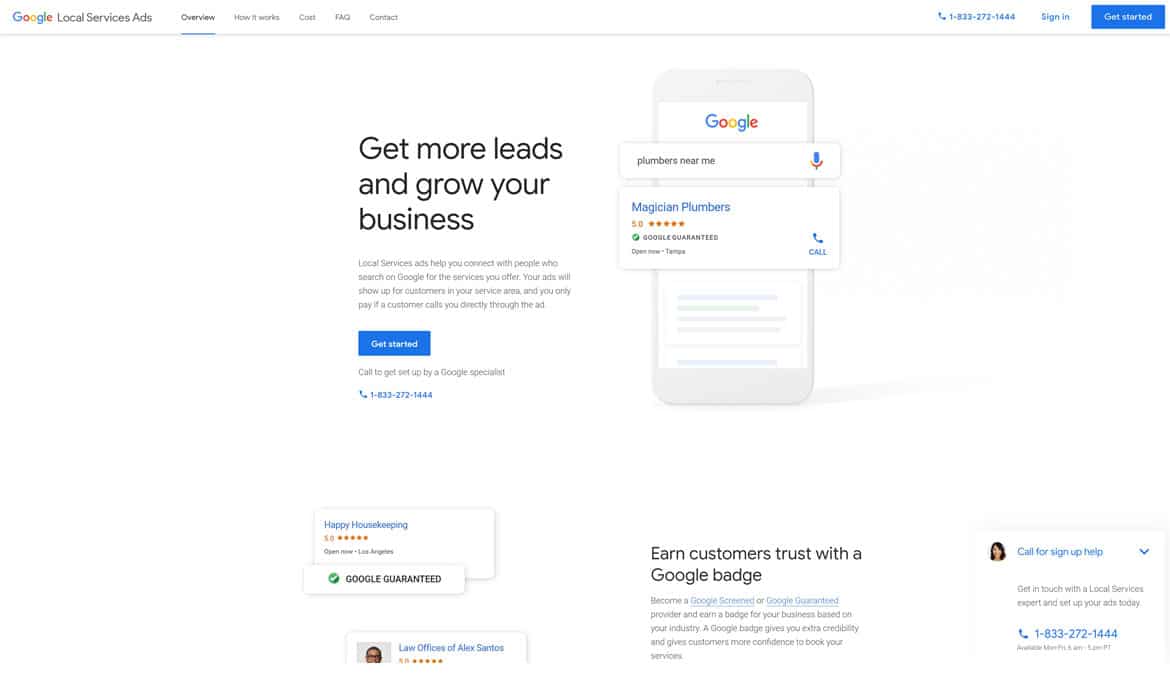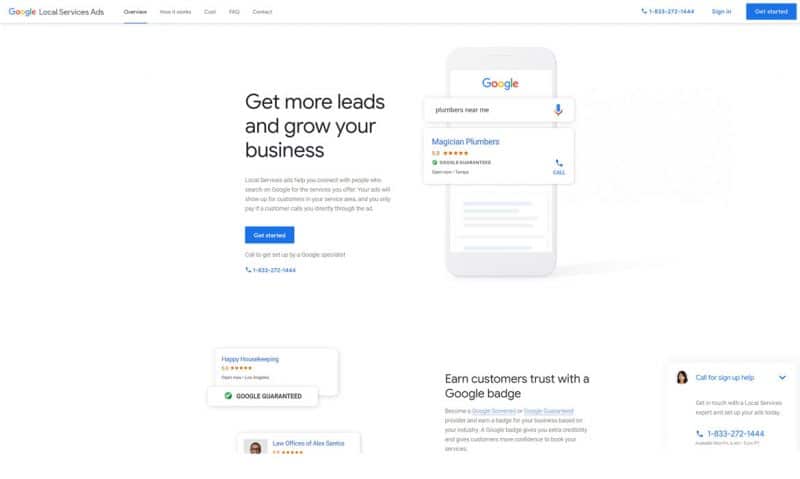 3. Search Engine Optimization
Just like Pay-Per-Click advertising (PPC Ads), Search Engine Optimization involves a series of technical strategies that are implemented to increase the online visibility of your website. Though SEO is a long-term marketing investment, it is the best step anyone can take to promote their plumbing business. Your competitors already know this, and that's why they've invested in it. If you try to catch up with them and even overtake them, you should employ the expertise of Search Engine Projects.
Not only are we qualified in SEO, but we've also got what it takes to apply our knowledge in this respect and make it yield plenty of positive results for you and your business.
4. Internet Marketing Analysis
If you want to excel in online marketing, you have to know the details of the online competition. You should start to familiarize yourself with the nature of your competitors' web presence on how your customers behave online. This knowledge is what will drive you to prepare better strategies and thus give you an edge over your rivals. However, internet marketing analysis may not be something you have the knowledge to do yourself, after all, you're a plumber and not a marketer.
That's why we've decided to help your plumbing business grow. Why not contact us today and get your comprehensive analysis from us as soon as possible?
What Should You Expect From Us?
· We Will Handle Your Plumbing Business Like Our Own
We know how important your plumbing business is to you. We will handle and manage the marketing aspect of your business with the greatest care and dedication, making sure that no matter what, your business prospers.
· Complete Transparency
As a business owner, it is only normal that you're curious about how your business is doing under our care. You can trust us to give comprehensive and detailed WIPs (Work-In-Process) reports to you every month. This way, you can stay updated about the improvements in your plumber marketing plan and link them to your overall results.
· Strategic and Tactical Online Advertising
When it comes to marketing and advertising, a good strategy cannot be overemphasized. At Search Engine Projects we understand this and that is why we are always cautious to plan our ideas before executing them. In terms of marketing, we will first understand the needs of your plumbing business and then provide a strategic approach to optimizing your marketing channels for increased customers and valuable leads.
· Dedicated and Supportive Team Members
Our specialized team is always on standby to provide support whenever help is needed. Beginning from our professional web developer to our data analyst, our team is dedicated to reaching your business goals for your plumbing company.
· Timely Delivery
At Search Engine Projects, we are always time conscious. We deliver on time with no delay. We promise to not disappoint and provide a 100% satisfaction guarantee to all of our clients.
Why Do Business With Us?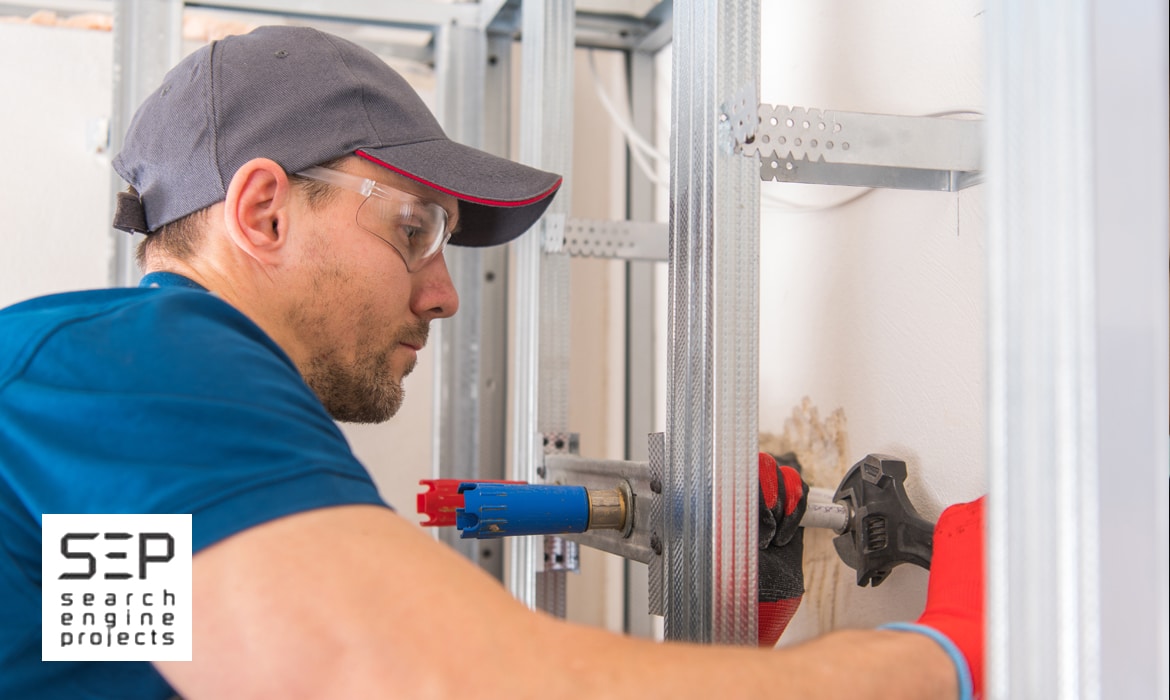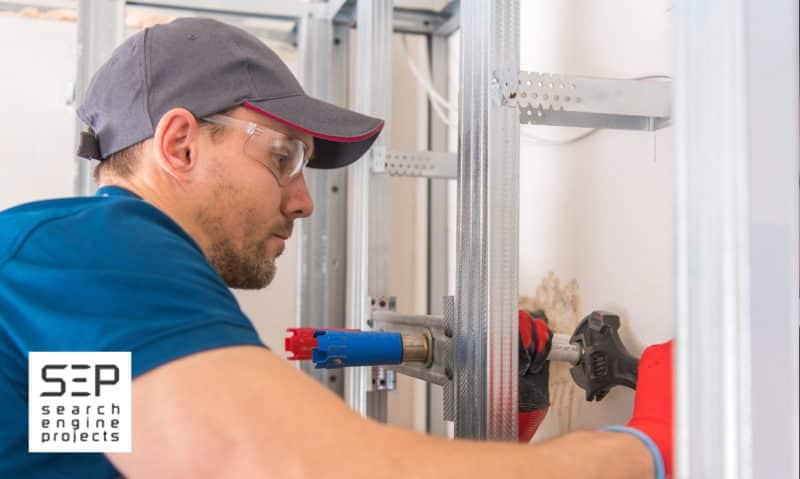 The number one reason is that we care about making your business dreams a reality and we can do this. Having acquired a lot of experience and expertise from working with other top plumbing companies, we have what it takes to turn your business around. You can put your plumbing business marketing in our hands because, with us, you have nothing to worry about. Make that call now, and we can get right to business!