How Much Does It Cost? Small business owners have different opinions when it comes to the Yelp business directory. Some business owners hate or love Yelp. Regardless of the love-or-hate relationship, when it comes to client reviews, Yelp is the king.
At least in the USA, Yelp has a large audience that is looking to buy in mind. Let's find out why you have to work with Yelp Advertising Partners if you decide to start Advertising on Yelp.
What is Yelp?
Yelp was founded in 2004 in San Francisco, California. Yelp is one of the most popular online directories for discovering local businesses ranging from restaurants, hair salons, attorneys, doctors, plumbers, and even pet shops in the USA.
As of the second quarter of 2019, Yelp reported having a monthly average of 61.8 million unique visitors via desktop computers and 76.7 million unique visitors via its mobile website. As of June 30, 2019, Yelp stated on its "Investor Relations" page that it had 192 million reviews on its site. Many of these visitors access the platform through its mobile web pages and application.
Yelp's platform offers business listings that allow customers to provide reviews on products and services.
These reviews are helping visitors decide which business to work with. For many small to mid-size businesses, Yelp reviews make or break their overall client accusation.
Yelp stands out as one of the most reliable ways that small businesses can manage their online presence and grow their reach.
For many business owners, dealing with Yelp is not an easy task. Logging into their business back office, fixing all their business information, and adding pictures and videos are all time-consuming tasks.
What is Yelp Advertising Partners?
Yelp started a new program called Yelp Advertising Partners in 2019. Yelp chose a small group of consultants or digital marketing firms to work with. These partners come up with and make use of the best strategies that Yelp offers to help small businesses target local audiences through Yelp.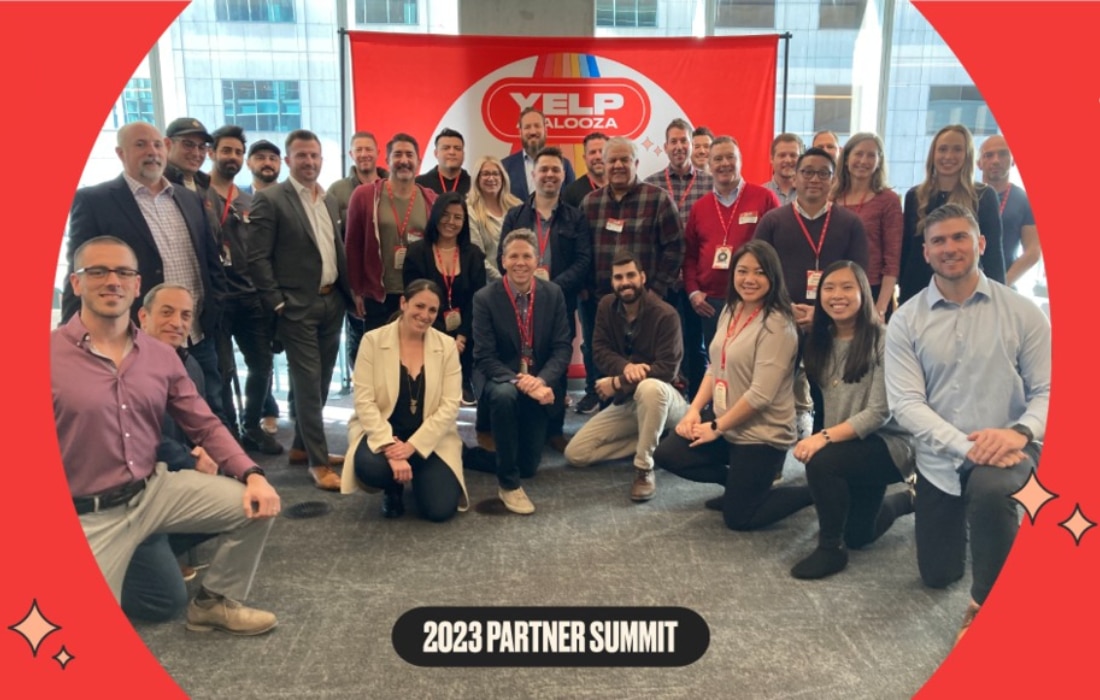 Benefits of choosing Yelp Advertising Partners vs. Yelp Sales Team
When you are working with Yelp Advertising Partner, you have a one-to-one business relationship. Your Yelp Advertising Partner can update your portfolio and share Yelp analytics about your Yelp performance monthly. Smart and agile Yelp Advertising Partners are always proactive to ask and modify your budget based on data and available spots that your business can take advantage of Yelp.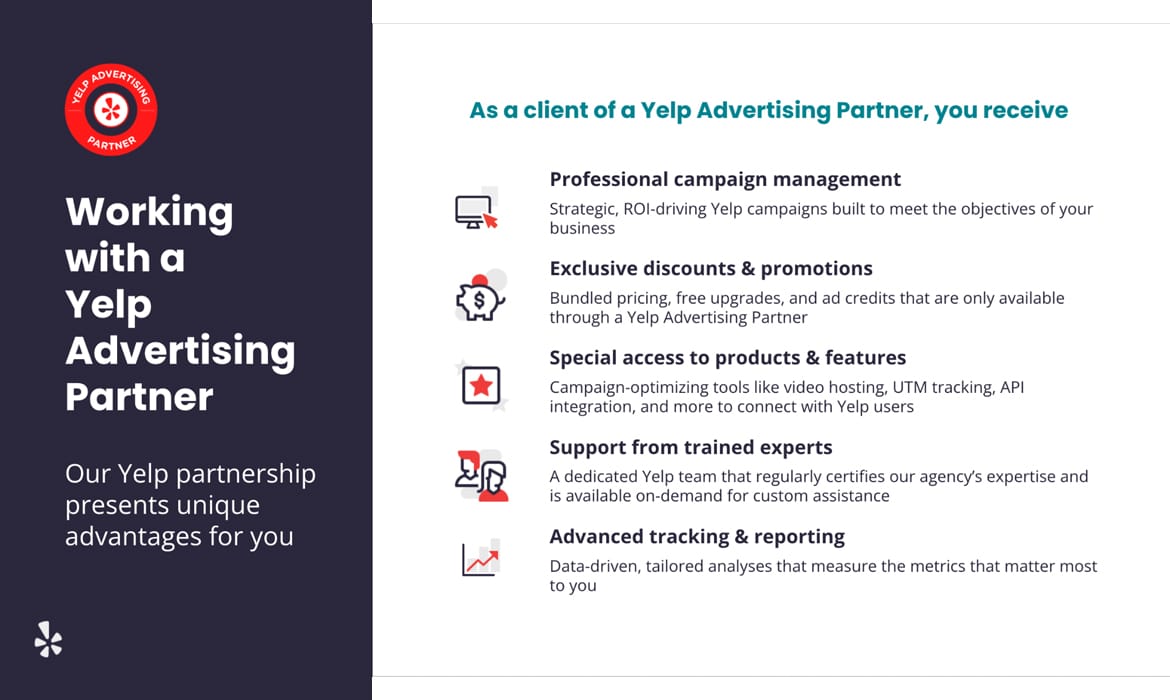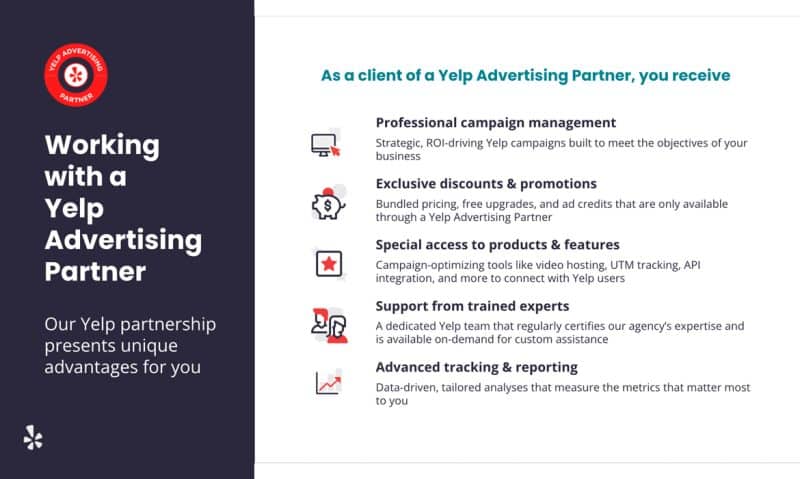 As a business owner, there are several reasons why you should work with Yelp Advertising Partners but let us quickly examine ten of them.
1. Helps Your Business Save Time
When you work with Yelp Advertising Partners for your business, you save time. Running and optimizing business campaigns by yourself would not only cost you a lot of time, but it would also cost you a lot of money. The majority of business owners hardly ever update their business page on Yelp.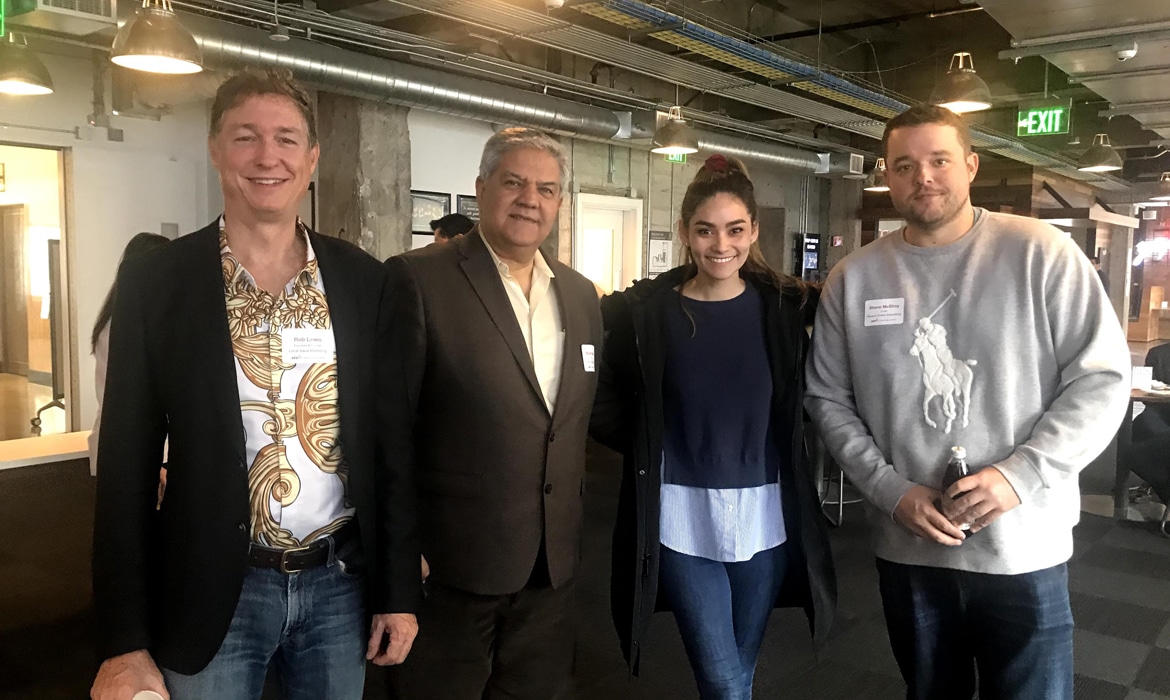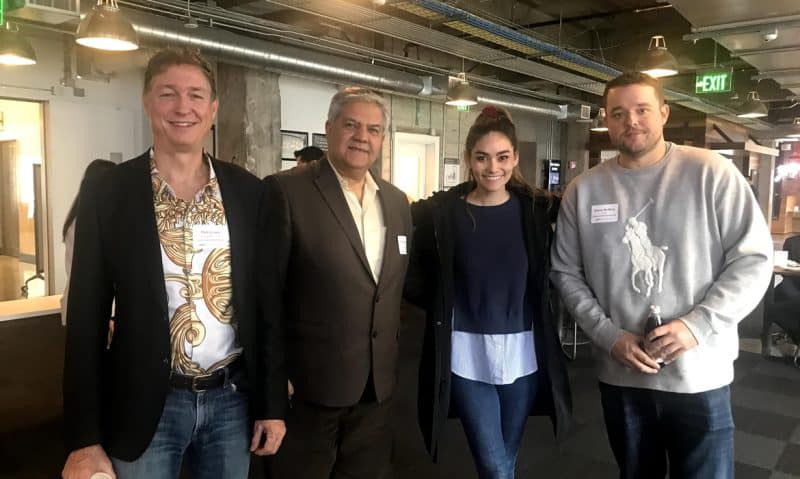 2. Yelp Advertising Partners Provide Comprehensive Reporting
By working with Yelp Advertising Partners, they provide detailed reporting that helps to grow your business on Yelp.
These reports provide you with all the necessary information about ad performance and improvement. You can easily engage metrics like user view, clicks for directions, and phone calls initiated which are generated by Yelp. The comprehensive reporting that Yelp Advertising Partners provides helps in enhancing the quality of business decisions that are made. It also ensures that all your business information and location(s) are accurate to make it easy for customers to find you.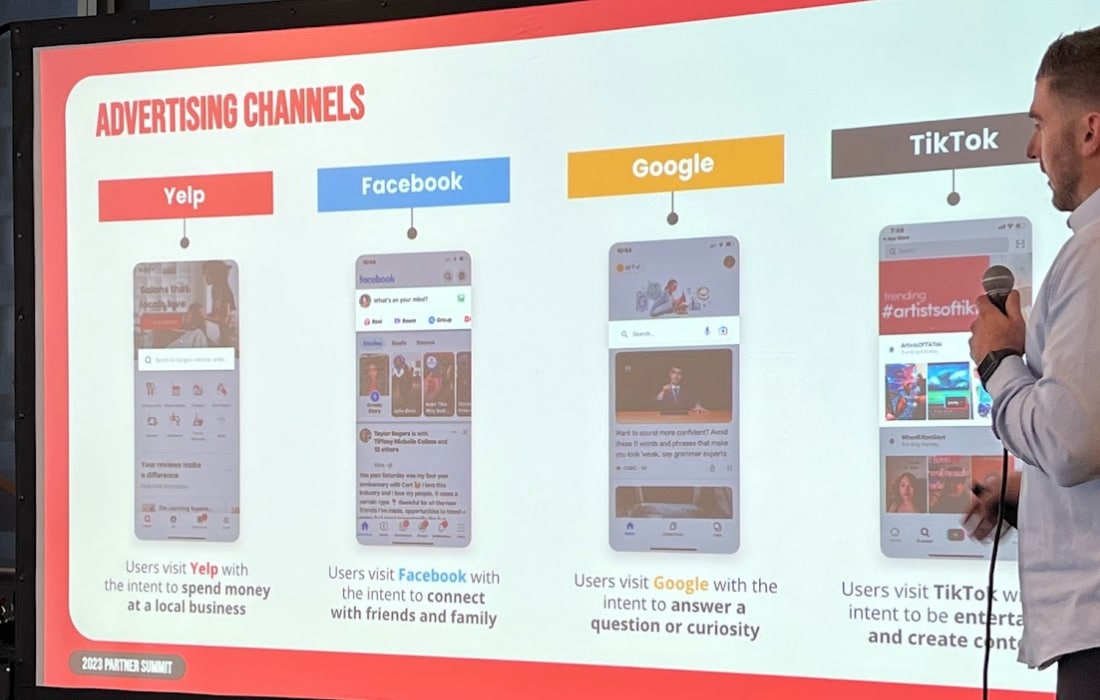 3. Yelp Advertising Partners Inform You About Promotional Offers
When you work with Yelp Advertising Partners, you will be informed faster about Yelp promotional offers about advertising products and services rather than when you work with the Yelp Sales Team. Usually, Yelp Advertising Partners have a smaller number of clients they serve. On the other side, the Yelp Sales Team is working with many clients daily.
Yelp also provides a lot of exclusive promotional offers and discounts through its partners. One of the promotional offers is the "Boost Offer" which is an additional ad budget that allows Yelp Advertising Partners to run a parallel ad to improve the ads conversion rate.
All of these promotional offers help you work with a cost-effective budget to run quality campaigns.
4. Yelp Advertising Partners Help You with Customer Issues
Yelp Advertising Partners Are Not Allowed to Add, Request, or Remove Any Bad or Good Reviews.

To secure the loyalty of your customers, there has to be a structure that responds to the customer's issues.
Yelp Advertising Partners provide that structure and ensure timely responses are made to the complaints of customers. They also ensure that customers are kept informed concerning changes and updates that go on within the business.
A Yelp Advertising Partner is trained in customer relations and knows how to provide solutions to raised issues, questions, or concerns. By utilizing the expertise of a Yelp Advertising Partner, you will be more knowledgeable about how to respond to your customer's responses politely and passively.
5. They Help You Maximize What Yelp Has to Offer
By working with Yelp Advertising Partners, you will be able to maximize your Yelp performance.
Yelp Advertising Partners will make sure that all the fields of the client's business page have the right keywords, adds professional images, update accurate hours of operation, and updates the client's biography. All these factors will make it possible to improve the search results on Yelp and receive more customer engagement.

Conclusion:
According to Nielsen, 79% of Yelp visitors make a purchase within a week after searching for a business.
If you have a business that follows one of the following criteria, then Yelp is one of the best places to advertise your business online:
Your business is selling to the end-user (Business-to-Consumer or B2C)
Your business is located in the USA
Your competition is advertising on Yelp
The advertising cost for PPC (Pay Per Click) in Google is much higher than compared to Yelp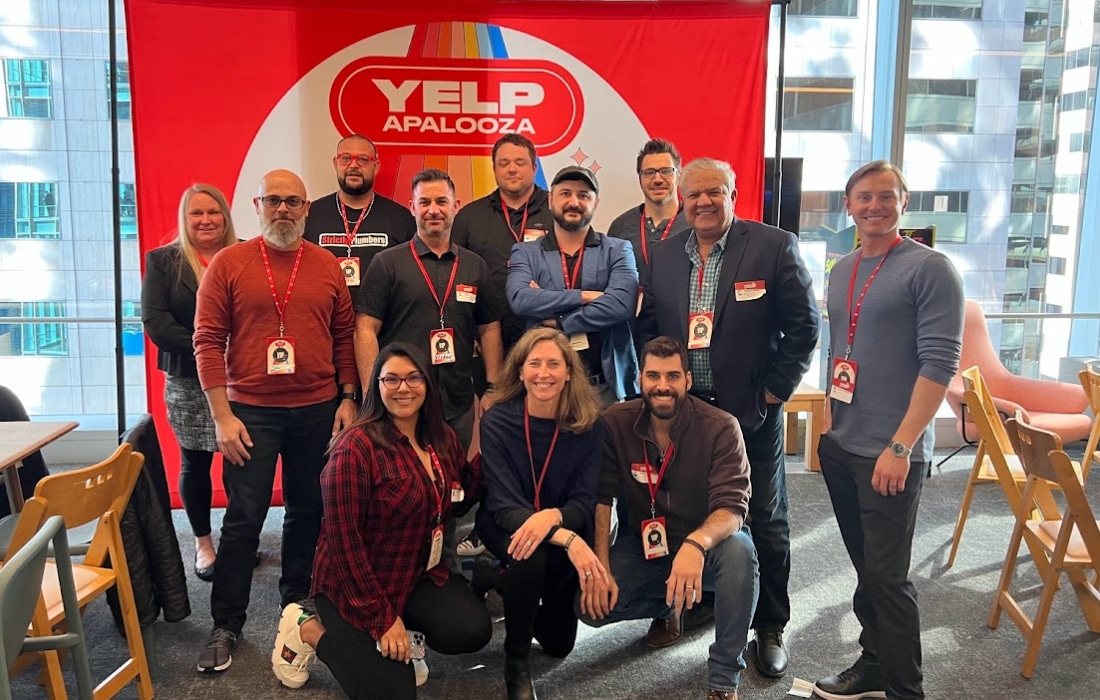 Search Engine Projects is one of the leading agency partners participating in the Yelp Advertising Partners Program. With the ability to directly sell and manage Yelp ads, Search Engine Projects can help clients through increased campaign flexibility and centralization.
As a Yelp Advertising Partner, Search Engine Projects offers white-glove service, access to powerful campaign tools, and cost-effective profile enhancements on the client's Yelp page.
Search Engine Projects offers the following services as Yelp Advertising Partners for its clients:
White-Glove Services:
Direct access to the Yelp support team
Campaign flexibility with month-to-month programs
CPC promotion eligibility (limited to first-time Yelp advertisers or a business that has delayed ads for six months)
Access to exclusive partner events and training
Powerful Campaign Tools:
Centralized dashboard for all advertising clients
Upgraded tracking capabilities
Analytics for better performance and on-demand reporting
Ability to customize CPC campaigns
Cost-effective profile enhancements
Profile discounts tied to the level of ads spent
Video hosting included as part of an enhanced profile
If you are looking to advertise on Yelp, contact us so we can help you grow your business.